419 total views, 1 views today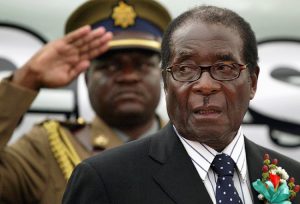 It has actually happened,  it took 37 years but it happened, Zimbabwean President Robert
Mugabe who ruled his nation with an iron fist based on the legacy of an African liberation hero
has resigned after having preceded over decades of economic ruin and political repression.
The man had led his country since official independence from Britain in 1980. His major downfall in
recent years can be attributed to his plans to have his unpopular and controversial wife First
Lady Grace Mugabe succeed him should he die while in office.
Mugabe is said to have often rigged elections to ensure he remained in power but his tendency
for brutal repression of his opponents goes back to the 1980s. It is said that he instigated a
massacre against the civilians of Matabeleland having said they were part of an uprising against
the government. Mugabe blamed his political rival and fellow liberation comrade Joshua
Nkomo for the supposed revolt. Mugabe is said to have sent in North Korean trained army
units, provoking an international outcry as more than 2000 civilians were massacred. Most of
them were from Nkomo's Ndebele tribe.
Mugabe has never answered for those crimes among others. He is more well known for having
facilitated the seizure of white owned farms by armed gangs of his supporters. This brought
him wide spread condemnation. The only person who had helped keep Mugabe on a sensible
path was his first wife Sally Mugabe who passed away in 1990. The former Prime Minister
turned President would later face economic sanctions from the West over his misrule. It should
be no wonder now Zimbabweans are overjoyed over his resignation which he said was to
ensure a "smooth transition".
Car horns blared as people danced, cheered and waved to celebrate the news of Mugabe's
departure, which he announced in a letter read out by the speaker of parliament. One man told
VOA's Zimbabwe service: "This is a break through… We are super exited as Zimbabweans and
we want to thank god. Our prayers have been answered. We have suffered a lot for 37 years."
Speaker Jacob Mudenda read out the resignation letter after lawmakers began proceeding to
impeach Mugabe. The letter said in part "I, Robert Gabriel Mugabe, in terms of section 96 of
the constitution of Zimbabwe, hereby formerly tender my resignation… with immediate effect."
Zimbabweans have no regrets about Mugabe's resignation. They view his rule as a miserable
time to live. He may have been the only leader most of the people have known buthe was
despised for the way he held on to power. Zimbabweans of course have the army to thank.
They would not have been out on the streets if the Army hadn't acted the way it had. In fact, if
Mugabe had designated his Vice President Emmerson Mnangagwa from the beginning the army
with not have acted the way it had. Rather there would have been no emergency conference
over the weekend and Mugabe would have still been in control of the party and country.
Sources
Mugabe
Celebrations in Harare After Mugabe Resigns
The streets of Zimbabwe's capital, Harare, erupted in celebration Tuesday after
President Robert Mugabe resigned, ending 37 years in power. His former vice …
Voice of America7h
Robert Mugabe
Zimbabwe's Robert Mugabe, facing impeachment, resigns after 37 years in power
Robert Mugabe, the revolutionary war hero who helped end white minority rule in …
Los Angeles Times13m
Mugabe: Zimbabwe'sliberator and, for many, its oppressor
HARARE – When he came to power, Zimbabwe's Robert Mugabe was feted as an
African liberation hero in a nation that had endured nearly a century of white …
Eyewitness News3h
How Robert Mugabe transformed from liberator to despot, leaving legacy of economic
ruin in Zimbabwe
From widely acclaimed liberator of his nation to despotic dictator, Robert …
scmp.com1h