400 total views, 1 views today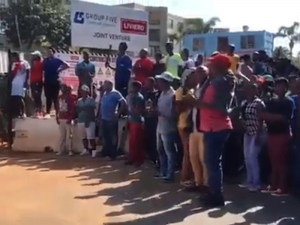 Durban businessman, Vivian Reddy says when developers previously offered to train the members of a forum to work on the Oceans Umhlanga development project – they had asked for money instead.
Reddy's company, Edison Property Group, is behind the multi-billion-rand development.
"It was most shocking that when we offered to assist them – they demanded R20-million from the Oceans Development which is absolute extortion," Reddy said.
Reddy, who's out of the country, says work was suspended yesterday after a hundred protestors gathered at the site – demanding a piece of the construction pie.
He says they won't bow to pressure to shut the project down.
Meanwhile, the groups in question say Reddy's lying.
The Federation for Radical Economic Transformation and the Delangokubona Business Forum say they didn't ask developers for R20-million.
"It's foreign to us to receive those disturbing news. We never demanded any amount from Vivian Reddy. It's seriously disturbing to hear him saying that we demanded a certain amount," the federation's Malusi Zondi said.