566 total views, 1 views today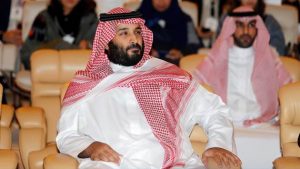 Crown Prince Mohamad Bin Salman of Saudi Arabia also known as MBS has been known to be
the most reckless despot the Middle East has ever seen since Libyan leader Col. Muammar
Kaddafi. He has fought a devastating war in Yemen against the Houthis, while the people suffer
from starvation and disease, while he has imposed a blockade on Qatar for half a year. His so-
called anti-corruption drive which also saw the arrest of over 40 princes, government ministers
and businessmen, has been viewed as a vicious power grab by his detractors.
Around the same time MBS has also been trying to provoke the Lebanese based armed group
Hezbollah into a war with Israel so that Iran may move to attack. He is said to have put pressure
on Lebanese Prime Minister Saad Hariri to resign while on a State visit to Riyadh sponsored by
the Kingdome to create a crisis.
Saudi Arabia has its justification to declare war against Hezbollah: The Kingdom, as the younger
Saudi hawk minister Thamer al-Sabhan recently declared, no longer distinguishes between the
group and the Lebanese government.
Hezbollah, according to Sabhan, has become "a tool of death and destruction" against the
kingdom – including training Saudi militants and helping Houthis build Iranians missiles, one of
which almost landed at the Riyadh airport this month – and Lebanon will be treated as though
it had declared war on Saudi Arabia.
So it would appear Riyadh has grounds to start a war with Tehran due to their aid to the
Houthis. The fact that the Saudis are blaming Hezbollah for supporting both internal and
external threats to its security shows they are preparing to engage in a war against Lebanon.
The Saudi regime has made it clear they will not make any distinction between the Lebanese
government and Hezbollah was what led to them provoking Hariri's resignation. Meanwhile it
has emerged that King Salman Bin Abdul Aziz is planning to abdicate in favor of his younger son.
Saudi King Salman bin Abdulaziz will retire next week and announce his son, Crown Prince of
Saudi Arabia Mohamad bin Salman, as his successor, the British Daily Mail reported Thursday,
quoting a source close to the Saudi royal family exclusively with the paper. The official who
spoke to the British newspaper stressed that King Salman would continue to serve as a
ceremonial leader, "like the Queen of England," but would transfer the official role of the
country's leadership to his son.
So now there are allegations that King Salman will abdicate in favor of MBS. It is said that this is
the final stage in his plans to achieve supreme power in the desert monarchy at the expense of
the more orthodox establishment. It has also been said that MBS' next move after becoming
the new Saudi King effectively head of state will be to declare war on Iran and Hezbollah. Of
course in his war with Hezbollah he plans to use the Israelis as proxies which is an old Saudi
formula. However, the Israelis are not thrilled with the idea of Saudi Arabia using them to fight
their wars and Hezbollah isn't interested in another war with Israel yet while supporting Syrian
President Bashir Al Assad in his war against the rebels and the Islamic state. It will be interesting
to see what foreign policy the Saudi state adopts under King Mohamad Bin Salman.
Sources
Report: Saudi king to step down next week
Saudi King Salman bin Abdulaziz will retire next week and announce his son, Crown
Prince of SaudiArabia Mohammad bin Salman, as his successor, the British …
YNET News29m
In another case, a former senior official consented to hand over ownership of four …
Daily Mail5m
Saudi Arabia
SaudiArabiais creatinga totalmessin Lebanon
Jamal Khashoggi is a Saudi journalist and author. As if we Arabs need another crisis in
our shattered world — but that's exactly what's coming after the mysterious …
Washington Post7d