3,841 total views, 2 views today
Pakistan has held another general election. But although it appears the Pakistan Tareek-i-Instafi led by former Cricket celebrity (PTI) has attained most of the seats in parliament with 115 seats short of 22 seats short of a majority. However there have been allegations of vote rigging by the Pakistan Muslim League (PML-N), the former ruling party, which won 43 seats. They're the current governing party led by Nawaz Sharif who is in prison for corruption. The military which some say positions itself as a Kingmaker was responsible for having the Electoral Commission alter the vote in some of the PML-N's constituency. The Pakistani People's Party (PPP) led by the son of its late iconic leader prime minister Banazir Bhutto, Bilawal Bhutto Zardari, came in third with 43 seats.
In Pakistan like India political parties are run or made up of family dynasties or celebrities. There are the religious parties which wield their own influence; the ulema also play their role. But the military which was responsible for stifling Pakistan's political development through several coups and dictatorships remains the key influencer. A PML-N leader Khawaja Asif told reporters after a meeting of the party's Central Executive Committee in Lahore that he would demand that they would have a judicial commission to probe take place on July the 25th.
Asif said he would publish a white paper with proof of alleged fraud committed during the elections, Efe news reported. Former cricketer Imraan Khan's Pakistan Tehreek-e-Insaf (PTI) emerged as the biggest party but short of a simple majority in the National Assembly elections. It is yet to seek formal support from smaller parties or independents to form the next government. The PML-N and Pakistan People's Party, headed by Bilawal Bhutto Zardari, were second and third respectively. The election result was delayed by more than two days and several parties alleged that their representatives were thrown out of the polling stations during the counting of votes. The European Union election observation mission said the election process saw "a notable lack of equal opportunities".
The army has never been genuine about where its loyalties lie. The issue of vote rigging has long plagued the country's politics apart from military coups. The elections outcome will be closely watched by Pakistan's major neighbors India and China. Pakistan due to its Southern coast's access to the sea is one of the key players along with its northern neighbor Afghanistan in China's Belt and Road Trade Initiative. The China-Pakistan Economic Corridor, a Railway line that will connect Pakistan and China through Afghanistan goes across the area of Kashmir which is under Pakistani control. India of course controls the other half of Kashmir.
I do not believe that neither China nor India trust the agenda of the Pakistani Military High Command as opposed to former prime minister Sharif given to their support of certain militant organizations in support of fighting in Indian Kashmir while also destabilizing Afghanistan. An expected coalition government under Imran Khan will be more in line with the generals' interests.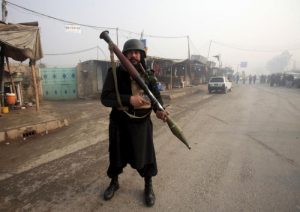 It is now clear that the PTI, while the single largest party, will fall short of a clear majority by 22 seats, thus producing a hung parliament and forcing Imran Khan to form a coalition government, a suggestion he had resisted during his election campaign. He seems to have changed his mind after the elections and has already begun to conduct negotiations with some of the smaller parties and independents. A coalition government led by Imran Khan is tailor made to serve the military's interests. It will provide the military brass with a pliable prime minister of its choice. At the same time it will make Imran Khan, who is somewhat of a maverick and is accused of having links with Islamist extremists, almost totally dependent upon the military's good will to remain in office. This will be the case because he will be forced to rely on independents and on one or more of the smaller parties, who are most easily susceptible to the military's influence, to retain power.
The PTI and Khan are clearly not the best brand for Pakistani democracy. Khan is unpredictable and open to compromise due to the interpretation of sharia law by some arch conservatives who favor a stricter and harsher version of Islam and those who want a moderate and less direct interpretation. Khan is probably the most unpredictable of Pakistan's leading politicians. The former cricket bowler and captain was known for his playboy lifestyle having had affairs with several women and is said to have fathered a child out of wedlock in the US has now become a so-called born-again Muslim advocating the strict interpretation of Sharia law that would have seen him either lashed or stoned to death for adultery under his previous transgressions.
He is married for the third time to a more religious Muslim woman who also plays the role of his spiritual mentor. However, Khan and the military will have difficulty over finding common ground as regards to foreign policy as regards to the United States. Khan openly accuses Washington of being involved in destabilizing the country through the war in Afghanistan. (By the way Pakistan also shares its western border with Iran which suffers from sanctions imposed by the US.) The Military wants to retain good ties with the US Army in exchange for advance weaponry to keep up with the Indian Defense Forces.
Should Khan prove to let his new position get to his head and try and undermine the top brass' agenda they will seek to remove him. Only another coup may not go so well. I don't think anyone in Pakistan wants another dictatorship; things have gone too far for that to be accepted again. I wonder if Khan will enter into a coalition with the PPP or the PPP could enter into a coalition with the PML-N as they did in the past only this time with smaller parties. There is still so little known about what Bilawal Bhutto wants from this new political setup or what direction he wants to take the party founded by his Grandfather and led by his mother.