403 total views, 1 views today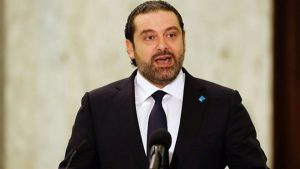 Lebanese Prime Minister Saad Hariri was back in his country's capital of Beirut for Lebanon's
independence celebrations.He has since postponed his initial resignation which he had
announce while on a state visit to Saudi Arabiaat the behest of President Michel Aoun. Hariri
was allegedly being held captive by the Saudis and Crown Prince Mohammad Bin Salman had
influenced his resignation. However due to the mediation of both French President Emmanuel
Macron – whose country sees Lebanon as their closest Arab ally in the region – and Egyptian
President Abdel-Fattah El-Sissi, Hariri is back in his country.
Meanwhile relations between Riyadh and Beirut have soured due to the alleged mistreatment
of Hariri and suspicions concerning the Saudi Government's involvement in his resignation. The
Saudis are allied with Lebanon's Sunni Sect and Iran, their regional arch rival is allied with the
armed group Hezbollah which holds great sway over the Lebanese. President Aounis closely
allied with Hezbollah although he is a Maronite Christian. In Lebanese politics it is hard to say
how your political affiliation is influenced by your religious beliefs.
Skeptics of Hariri's stated reasons for resigning, notably including Lebanese President Michelle
Aoun, accused Saudi Arabia of holding him prisoner and forcing him to resign. France made
efforts to dispel this notion, first by sending officials to meet with Hariri in Riyadh and declare
he was not under duress, and then by inviting him to visit Paris before returning to Lebanon.
A few hours after he returned to Beirut late Tuesday evening, Hariri announced that, after
speaking with Aoun, he was suspending his resignation. Hariri also attended a military parade
for Lebanese Independence day with Aoun and visited the grave of his father, former Prime
Minister Rafik Hariri, who was assassinated in 2005.
"Our beloved nation requires at this precise moment in its life exceptional effort from anyone,
in order to protect it as it faces danger and challenges. These efforts start with the adherence
to policy of neutrality with regards everything that hurts internal stability and our brotherly
relations with the Arabs," Hariri said on Twitter after attending the Parade.
So Hariri has now being trying to downplay the accusations that the Saudi Crown Prince was
holding him under house arrest. How, ever the influence of French President Macron has been
instrumental in bringing sense to the situation even though Mohammad Bin Salman ended
looking like a fool.
Sources
Lebanon
Lebanese prime minister retracts resignation
(BREITBART) — Prime Minister Saad al-Hariri made his long-awaited return to
Lebanon on Wednesday, but instead of formally tendering his resignation and …
WND.com3h
Pending
Lebanese PM Suspends Resignation Pending More Talks
Following Lebanon's independence day celebrations, Prime Minister Saad Hariri met
with President Michael Aoun and has announced he is "suspending" his previous …
AntiWar5h
Washington Post11h
Saudi Arabia
The Latest: Lebanese PM Hariri makes detour, lands in Cyprus
BEIRUT – The Latest on the crisis following Lebanese Prime Minister Saad Hariri's
shock resignation from Saudi Arabia more than two weeks ago (all times local): …
Fox News21h