2,370 total views, 4 views today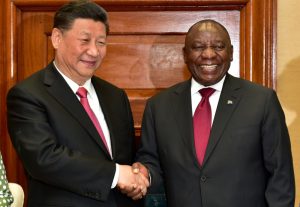 You may not think the small technologically advanced African nation of Rwanda will be the first stop for the leaders of Asia's to greatest developing economic giants China and India. Rwanda which has been termed the "Gate Way to Africa" by their Ministry of Economic Affairs (MEA) has no Sea access and is relatively small, but since the pragmatic and somewhat ingenious president Paul Kagame took power after political chaos ensued following the infamous genocide he had sort to turn it into one of Africa's economic power houses investing heavily in the IT sector. Kagame played a key role in initiating the Africa Continental Free Trade Agreement (AfTCFTA) and making it a goal of the African Union.
Thanks to Rwandan efforts at least 44 countries became signatories to AfCFTA, although South Africa has yet to join the rest.
Africa is part of Chinese President Xi Jinping's ambitious 'Belt and Road initiative' to build a global transport network connecting China to the rest of the world. Rwanda has positioned itself as a key nation in the grand plans of China, integrating its agenda with that of Beijing's railway network project. "They will jointly witness the signing of a series of cooperation to elevate China-Rwanda practical cooperation to new highs," said the Chinese Ministry of Foreign Affairs in a statement.
While China has 43 missions in the African continent including one in Rwanda, India is yet to open its mission in Kigali. With Prime Minister Narendra Modi's focus on Africa, it was only in March this year that India decided to open 18 new missions in African countries which will take India's tally up to 47 from 29. The 18 new missions will be opened over a four-year period between 2018 to 2021, a government statement said.
China's plan to build a modern-day silk route that will connect itself to most of the developing world will certainly be highlighted at the BRICS summit, although India is not a supporter it may be persuaded to join. It will appear that Rwanda while being a proponent of AfCFTA will also be a key influencer with the BRICS nations. It could be one of the more positive forces on the African Continent that could press for greater interest in resolving some of the continent's civil conflicts. The role China has played throughout Africa consists of not only economic development but also a great deal of humanitarian work. This is the reason for why China has taken such a specialized mission in Africa.
India is trying to catch up as it lags behind in having a close relationship with Africa, due to its growing market and other forms of fortune. With the BRICS summit in Santon, Johannesburg, South African President Cyril Ramaphosa has also invited some of the leaders of Africa's major economies to attend the Summit.
Brics – the major emerging economies of Brazil, Russia, India, China and SA – are known for their significant influence in regional affairs. "South Africa's hosting of this very important gathering, also attended by several African heads of state, has proven to be a genius move by Ramaphosa," said political economist Lyal White.
His extension of an invitation to other African leaders adds a considerable weight within Brics and paves the way for inclusive pan-African investment, proving South Africa to be of major diplomatic importance in the continent's multilateral approach to trade and investment. This is of enormous political and economic significance for South Africa to be part of Brics because it is the largest configuration of heavyweights in new and emerging markets.
Ramaphosa clearly is looking to further his reputation in the international and political arenas while also trying to build his leadership of the ANC on the domestic front. The president is hoping the party will realize any attempt to remove him will do significant damage to the themselves come the next general election. The president hopes by showcasing South Africa can still be a major center for international trade and investment – which it can be under his leadership – in spite of the mismanagement of the economy and other services by President Jacob Zuma he will be able to save his presidency.
The truth is that, Ramaphosa has just played a major Trump card by inviting African leaders to the Summit so as to promote intra-African trade and AfCFTA as well as more investment in those nations and therefore South Africa by BRICS members.